Slots Jackpot → Beach Life Slot
Beach Life Slot Progressive Jackpot and Game Review
---
---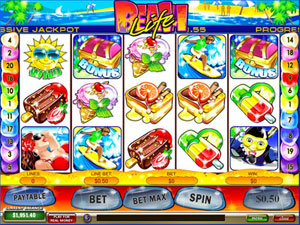 Even if you're facing the cold harsh of winter, you can still enjoy the summer sun, or at least the summer fun, in Playtech's Beach Life. Beach Life is an Online Slot game with five reels and twenty pay lines, so there are thirty five different winning combinations for you to take advantage of at Beach Life.
Amongst its sunshine beach theme look are a variety of different symbols that can lead you to collecting one of the great bounties Beach Life has to offer. The symbols featured on the reels of this slot game include a sexy beach girl, a cocktail, a diver, an ice cream, a sandcastle, a surfer, a treasure chest and of course, the thing every pleasure beach requires, a sun. Nothing out of the ordinary here, the symbols represent everything one might associate with a nice, hot fun day at the beach. A combination of any of the symbols on any activated pay lines pays dividends to you, although to win the progressive jackpot, which could be as high as £2,500,000 you'll need to have all twenty of the pay lines activated.
The energetic Sun itself features as Beach Life's wild card. Though it is unable to duplicate a scatter symbol, it can be substituted for any other symbol on a reel, possibly as the missing link you need to complete one of the many pay lines on offer. Beach Life's scatter symbol is a sandcastle, again nothing out of the ordinary. Collecting two or more sandcastles entitles you to an additional win, multiplying your original stake and adding it to whatever pay line combination you are currently winning with. The treasure chest features as Beach Life's bonus symbol and racking up three or more entitles you to play in the bonus round. You are rewarded one bonus prize for every bonus symbol you get, which simply equates to, the treasure chests you have, the more stuff you're going to get out of them.
With the stakes slightly higher than at other slots, Beach Life would turn into a costly game if you don't know what you are doing, so take your time and place lowly wagers first. Once you're confident that you know your stuff, go ahead and try out the maximum pay line stakes to try your hand at the big multi-million Pound jackpot. Of course that's just advice, and you don't have to listen to me at all! If you fancy a crack at the big time, then you go right ahead. It could just be after all, a very pleasant day to go live life to fullest, at the beach.