Slots Jackpot → Mega Moolah Jackpot
Mega Moolah Slot Progressive Jackpot and Game Review
---
---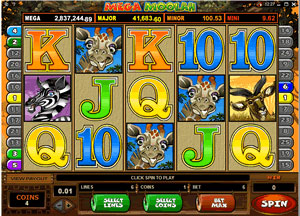 Quite unique from most online slots games, is the aptly named Mega Moolah. If you are going to give yourself a name like that you'd almost certainly better be hosting a progressive jackpot that can match up that big claim. How does £1.6m tickle you? Yes, I thought it might. Mega Moolah is a five reel and a whopping five pay-line slot machine. Having been in operation for considerably longer than most other slots, it has seen payouts as grand as £5,650,000, with it's lowest recent payout still a tongue wagging £1,250,000!
So how are you able to pick up what are arguably the largest winning son the net? Well, this African Safari themed slot game, will see you needing to match up as many animal themed symbols as you possibly can. Buffalo, elephants, gazelle, giraffe, zebra make up the smaller standard winning combinations. Combining any number of them on a active pay line could set you up for a sizeable pay day, even if you fail to hit the progressive jackpot.
In Mega Moolah, the lions are the wild cards. Any lions or wild cards if you prefer, that you collect will be transformed or substituted into whatever other symbol you might need in order to complete a pay line. Very useful indeed! Head Hunter Trophies count for scatter cards in Mega Moolah, Head Hunter symbols will enable you to earn 15 free spins, and a trebled stake. This is a very efficient way of popping a couple of extra coins on top of your stake!
Mega Moolah also has a bonus game, the Spinning Jackpot Wheel. The Mega Level will offer up a £1,000,000 as a prize, whilst Major and Minor levels offer up £10,000 and £100 respectively. There is even a consolation prize of £10 featured at the Mini level. There isn't really anything you can do to activate this bonus feature unfortunately. It sort of just appears out of nowhere, at random. The only thing you can do to tilt the odds in your favour of receiving it, is play high bet games. Apparently, playing maximum pay lines will significantly increase your chances, so bet high, very high!
The total stake you can make is also low, compared to other slots, so even playing all 25 pay lines shouldn't cost you too much! Mega Moolah is available in most of the larger online casinos though is often a download, s oyou'll seldom be able to play it on your browser, if you can at all! Still, for that amount of money, I'd be happy to play Mega Moolah in a land-based casino! So there you are, grab you gun and go shoot some fun in the Mega Moolah Safari today!